Buy Massage Vouchers
Use the form below to purchase and send a personalised voucher as a special gift for a tailored massage at the Right for Life Massage & Energy Centre.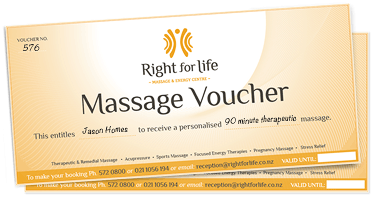 Our massage and energy centre is located at 316A Papamoa Beach Road, Papamoa nearby Bayfair Shopping Centre.  Click to view our location on Google Maps.
Complete the form below with the recipient's details and we'll post their voucher to any address in New Zealand. You can even include your own personal message.
LAST DAY FOR PURCHASE OF E-VOUCHERS is Thursday 24th December
So be assured, if you wish to be organised and buy now, we'll still issue it valid FROM Christmas Day.